PUBLIC-PRIVATE PARTNERSHIP
The northern capital is highly-experienced in the public-private partnership projects implementing and takes the first place in the Regions Rating in public private partnership development terms.
In the rating of regions on the level of development of public-private partnership 2020
4
place
Long-term partnership of St. Petersburg Government and private businesses contributed to such large infrastructure projects implementation as:
Buildings creation and operation, intended to accommodate educational institutions on of II , III , V and VI blocks in «Slavyanka» residential district of the Pushkinsky district» on the public-private partnership basis
Buildings creation and operation, intended to accommodate educational institutions in Pushkinsky district of St. Petersburg on the public-private partnership basis
PUBLIC-PRIVATE PARTNERSHIP PROJECTS IN ST. PETERSBURG
18
AT VARIOUS STAGES OF IMPLEMENTATION
Public-private partnership is private business involvement by state and (or) municipal government bodies for public infrastructure facilities construction, reconstruction, modernization, technological maintenance and operation as well as public services provision while using such facilities on the risks, competencies and responsibilities sharing basis, defined by both the contract and the legal acts totality as well.
The advanced technical and managerial solutions appliance is typical for the projects, implemented in the public-private partnerships form, according to the practice.
Public-private partnerships mechanism is gaining momentum and rapidly developing interaction form between private investors and state, since it involves a complete risks sharing between them.
STATE-PRIVATE PARTNERSHIP MECHANISM BENEFITS:
Long-term state and business interaction;
A private partner is involved in both design, financing, construction and reconstruction of the facility as well as its operation and/or maintenance;
Risks distribution between private and public parties;
Contributing to the competition development;
Opportunity to obtain a land plot without bidding (in cases provided for by Article 39.6 of the Russian Federation Land Code, dated October 25, 2001 No. 136-Federal Law);
Tax incentives for investors;
Services quality improvement.
PUBLIC-PRIVATE PARTNERSHIPS MECHANISM BENEFITS FOR BUSINESS:
Interaction with the public side within the long-term agreements;
The opportunity to get a land plot without bidding for public-private partnership agreement (municipal-private partnership agreement) and concession agreements implementation;
The opportunity of co-financing the project by the public side, obtaining additional guarantees (including minimum profitability);
The ability to increase your project profit by additional paid services provision and / or various solutions use, reducing the costs at creation or operation stage;
Project risks distribution between the private party and the public partner (concessor);
In the case of a private initiative - an opportunity to independently develop the project structure and propose the agreement;
Shortened agreement signing terms.
AGREEMENT SIGNING PROCEDURE FOR THE PUBLIC-PRIVATE PARTNERSHIPS IMPLEMENTATION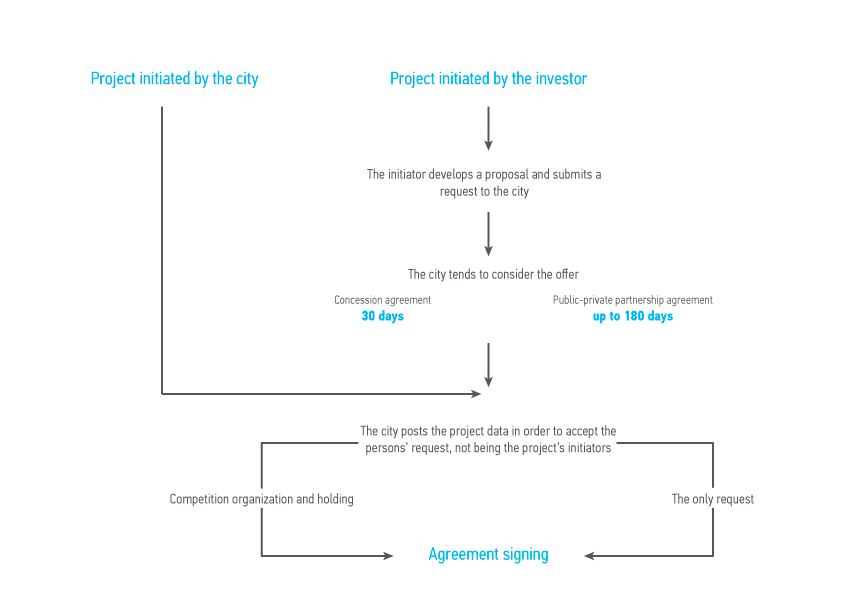 REGULATORY LEGAL ACTS IN THE SPHERE PUBLIC-PRIVATE PARTNERSHIP:
LEARN MORE ABOUT A STATE-PRIVATE PARTNERSHIP AGREEMENT AND CONCESSION AGREEMENTS