STRATEGIC INVESTMENT PROJECT STATUS
Strategic investment project status assigning is an effective investors support mechanism.
ST. PETERSBURG'S STRATEGIC INVESTMENT PROJECTS
61
Project implementation areas
Transport, logistics, transport infrastructure;
Industrial production;
Territory development;
Culture, sports, tourism,
Information technology,
Engineering infrastructure,
Social infrastructure.
The strategic investment project status is assigned to those projects, meeting the criteria, set forth in St. Petersburg Law, dated 12/03/2008 No. 742 136 «On St. Petersburg's strategic investment projects, strategic investors and strategic partners».
The following benefits are provided for investors, engaged in strategic investment projects implementation:
Leased land plots provision, owned by the state without bidding,
Rent cost reduction for the land provision for further construction up to 1.5% of its cadastral value,
The site redemption opportunity, received by the intended purpose at a reduced price,
Investment project support at all implementation stages.
Requirements for strategic investment projects:
| | |
| --- | --- |
| | The project goal should be St. Petersburg life socio-economic and/or cultural conditions improvement, |
| | The project is effective given the payback period, profitability, the tax revenues amount to both the federal budget and St. Petersburg one, |
| | The project provides a total investment: |
| | 1 billion rubles in the healthcare, education, culture, sports and physical education, science, innovation, tourism development (including through the hotels creation), |
| | 2 billion rubles for industry, transport and logistics complex development as well as the engineering infrastructure creation. |
| | Import substitution measures implementation, |
| | The investor and (or) affiliates, engaged in the investment project implementation, must have the experience in the similar industry's investment projects implementation for a period of not more than 10 years before applying for the status, worth at least the amount, provided in the section 3. |
STRATEGIC PROJECT STATUS OBTAINING PROCEDURE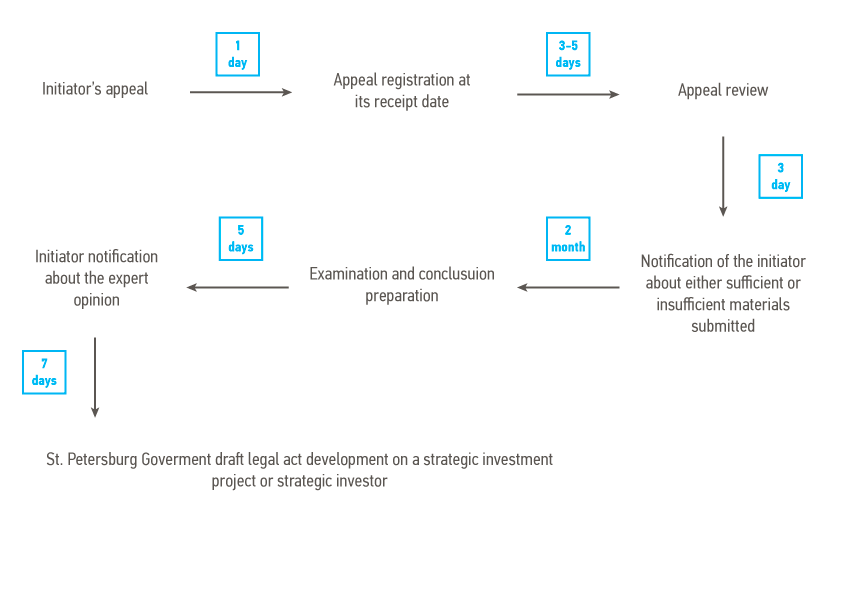 LOOK THROUGH THE INVESTOR'S GUIDE